Upcoming Services and Events

SMG 2017 Annual Function

SMG OYYA Bible Studies
In Orthodox liturgical worship the 50 day period between Pascha and Pentecost is known as the Pentecostarion. In the Gospel readings and liturgical hymnography for this period the image of water (a symbol of the Holy Spirit) and baptism dominate. At Pascha we are reminded that through our baptism "we put on Christ" and become "partakers of the divine nature" (2 Pet1:4) and of the heavenly Kingdom. Again at Pentecost we recall that through our baptism and chrismation we are called to be vessels of the Holy Spirit.
Join us as we explore how the Pentecostarion challenges us to examine if we are living up to our sacred calling to be disciples of Christ and members of His Church.
Presented By: Monica Ibrahim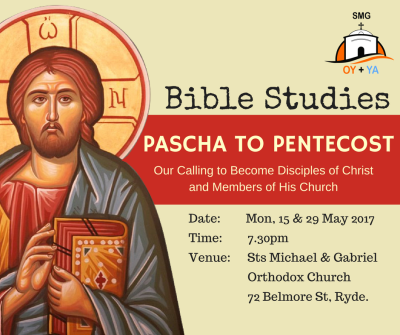 Saturday of the Souls
Please join us at SMG for Divine Liturgy to commemorate Saturday of the Souls. As is the Orthodox tradition, we remember all those who have fallen asleep in the Lord.

Date: Saturday 3 June, 2017
Time: 9.30am

For more information on these and all our services and events please contact Very Rev Fr Michal Zghaib on 0403 847 690.